Quality You Can Trust
Hydro Tube Enterprises, Inc., both Oberlin, Ohio and Sanford, NC facilities are continually improving our processes through our Quality Policy and Objectives.
Material traceability is what our customers expect from their tubing fabrication suppliers and Hydro Tube can provide material certification traceability from the receipt of the raw material through our processes and on to your customers.
We can provide our customers with documented First Article Inspection Reports including Immersion, Hydrostatic and Leak Decay Testing and complete Pre-Production Part Approval Process (PPAP) documentation to your requirements.
​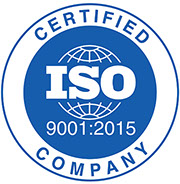 Hydro Tube is ISO 9001:2015 Certified.
ISO 9001 is the international standard that specifies requirements for a Quality Management System (QMS). Organizations use the standard to demonstrate the ability to consistently provide products and services that meet customer and regulatory requirements.