Welding, TIG, MIG, FCAW, SMAW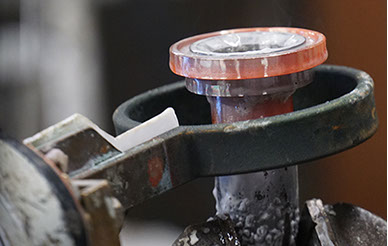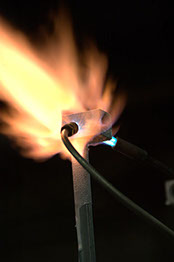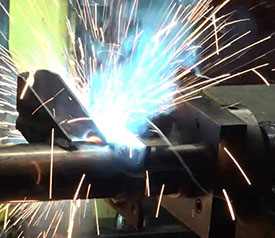 Hydro Tube has extensive capability in welding Steel, Stainless Steel, and Copper in tubes and fabrications. Using advanced equipment and techniques, Hydro Tube is expert in GTAW, (Gas Tungsten Arc Welding, TIG), GMAW, (Gas Metal Arc Welding, Mig), SMAW (Shielded Metal Arc Welding), FCAW (Flux Core Arc Welding).
Hydro Tube has Certified welders for Sanitary Welding and custom welded fabrications. Multi-position welding, rotary welding, and advanced Orbital welding offer a full range of welding options.
Hydro Tube also offers Robotic welding. The Robotic Weld Cells are multi-axis, allowing for great variation in products to be welded. Our qualified welders teach the Robot to perform the welds, which results in repeatable reliable welds.
MIG Welding
TIG Welding
Orbital TIG
Robotic Welding
Induction and Gas Brazing – Silver and Brass
Long a mainstay in hydraulic rigid tube and manifold assembly, Hydro Tube has developed great expertise in Silver brazing, Bronze brazing, and Copper brazing. Gas brazing by hand provides great flexibly and strong Silver, Bronze and Copper joints. Induction brazing was introduced over 10 years ago and has provided extremely reliable strong leak free joints with Silver brazing. Hydro Tube has evolved its flux and brazing processes to provide the most reliable cost-effective welds. The use of close tolerance fixtures increase quality and multi fixture setups improve efficiency and lower cost.
Hydro Tube uses a combination of gas and electrical induction for brazing, depending on the application need.
Silver Braze – We use a combination of gas and electrical induction for brazing – depending on the application need.
Bronze / Brass Braze
Close tolerance fixturing
High production rates on multiple station units
Joint efficiencies of 80-95% coverage
Contact us today for more information.
OHIO / Northern Facility
137 Artino Street, Oberlin, Ohio 44074-1205
Phone 440-774-1022 | Fax 440-774-1482
Matt Delac, Sales and Marketing Manager